What is Precision Grazing and How Can It Maximize Farm Potential
In today's Guest Spotlight, farmer Marcus from Happiness by the Acre goes over the nitty-gritty details of precision grazing, how it came to be an essential aspect of their farming approach, and what exactly it entails. The critical point to consider in this post is that farming is not just a job; it's a way of life. It takes passion, the pursuit of knowledge and eagerness to learn, and, most importantly, problem-solving skills, patience and perseverance. Read Marcus' latest contribution below, and as always, feel free to share your comments and suggestions with us, we would love to hear from you!
I want to preface this article with a statement of my ignorance, lest I fall victim to the Dunning-Kruger Effect. My on-farm experience with grazing is limited, if well researched. I have been learning about grazing methods for about a decade, long before the first cow or chicken entered our lives. When it comes to knowing whether we have overgrazed or under grazed, I still rely heavily on others' wisdom and the growing pool of knowledge around grazing practices. That said, we have been employing precision grazing methods for the last three years with amazing results.
What exactly is precision grazing, though?
In a nutshell, we are trying to maximize the available forage and nutritional quality of that forage for livestock – cattle, poultry, sheep or yaks. By manipulating stocking density (pounds of animal per acre) and grazing time, we can get the most out of our pastures. We then work into the program pasture species diversification, high animal impact zones, soil biology, and soil mineralogy. Lastly, we track performance data over time, looking for areas of weakness to correct.
This probably sounds familiar to anyone who has worked with or around Mob Stocking, Management Intensive Grazing, and Holistic Planned Grazing. What we call Precision Grazing on our farm leans heavily on those paradigms, but adds short and long-term data collection to zero in on areas the human eye (and more likely the human mind) can miss. As we move forward, we strategically partner to track long term soil carbon sequestration, linking data into machine learning systems to improve predictability and response times to climate and weather, precision application of soil amendments, and working to improve animal genetics.
Functionally, how it works is pretty simple. On our farm, we currently target between 50,000 and 75,000 pounds of animal per acre. We give them one day in a grazing area. We move them every day to fresh pasture. Every third to fifth day, depending on weather, we move their high impact zones: the water trough, the mineral bucket, and during bloat risk times a dry matter source (we are using a bale feeder this year, with one bale of old hay). The day before we move their high impact zones, we hand broadcast our pasture seed blend and annual nurse crops where the animals will work the seed into the soil.
The tricky part is how many animals can a given area support for a day. As a general rule of thumb, we aim to have ⅓ of the pasture grazed, ⅓ trampled to feed the soil and retain water, ⅓ left on the plants to maximize regrowth. The aim is to have the pasture back in grazable condition within 60 days and leave enough time to recover before winter hits. Working with some knowledgeable graziers in our area, we came up with about our 50,000 – 75,000 pounds of animals per acre per day. On another field, it could be less or more depending on the health of the pasture stand and topography. We started with fewer animals, taking excess forage for silage or hay, and have scaled up slowly each season. Always the aim is the long-term health of the pasture first.
Every few years, we take soil samples, usually in June weather permitting, to track biology, organic matter, minerals, and NPK (Nitrogen, Phosphorus, Potassium). The more often we take soil samples, the easier it is to spot when we are going sideways. Over time we adjust our practices to make sure our pastures are thriving.
This is very different from turning cows out into a pasture and checking once a week to make sure they have minerals and water. Do the extra effort and labour pay off?
At this point, our farm is in the infancy of getting a precision grazing system in place. We are already averaging from 2.25 to 2.75 times the grazing capacity of our neighbours, and our pastures continue to improve. The herd size we can support for the grazing season has grown from 40 cow-calf pairs plus two bulls in 2018 to 50 cow-calf pairs plus two bulls in 2019, and for 2020 we are hosting 80 cow-calf pairs plus two bulls. We graze from the start of June until the end of October. In 2018 we took ½ our pastures for silage, in 2019 we took ⅓ for silage. Our grazing areas shrank in 2018 by 10 acres for our building site, gardens, barns, and corrals to expand. In 2019 they shrank a further 4 acres for shelterbelts and eco-buffers. So, we are grazing more animals on less pasture and still seeing improvements. We currently have 125 acres +/- in pasture an hour north of Calgary, Alberta.
Our average labour cost is 14 hours per week, or about 2 hours per day while the animals are here. This covers moves, set-up, take down, visits to UFA for supplies, tracking data, talking to neighbours, dealing with sick or injured animals, and fixing things calves break. In the offseason, we spend about 2 hours per month doing prep work, planning, and so forth. We don't own the cattle, we host them for the grass season and send them home when the snow starts to fly. The labour load has been the same for 40 cow-calf pairs as it is for 80 cow-calf pairs.
Doubling our income in three years, on fewer acres, has been worth it for our farm.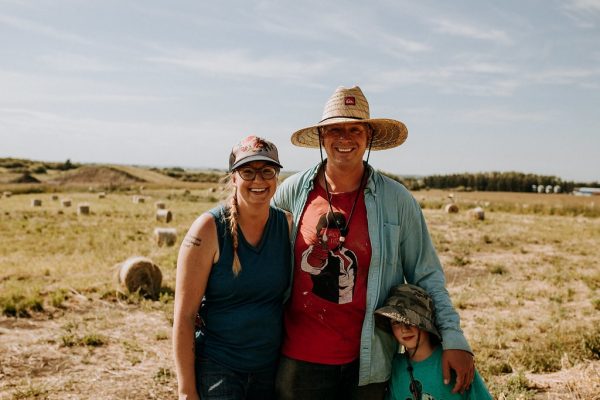 About Happiness by the Acre
Happiness by the Acre is a small family farm located on the edge between the Alberta foothills and the open prairie. Dedicated to providing healthy, fresh, local, and ethical food to consumers, they believe that what you eat, and what you choose to support with your purchases, directly impacts how the land is used and how healthy the soil will be.
For more blog content on growing and raising happy food, visit the Happiness by the Acre website at https://happinessbytheacre.ca/
Sarah and Marcus Riedner
[email protected]